Like you, marketing our business is an essential step in the continued growth of DesignFiles. And if I am being totally honest with you, it was never really my area of expertise. I've been building online design tools for over a decade and I can honestly say that it was only in the last few years that the marketing side really started to click for me. 
And guess what? I didn't figure it all out on my own through trial and error. 
Instead, I found a framework that finally made sense to me. I put it into practice and immediately started to see better results from our marketing efforts. 
How much better? 
Our landing page clocked in at a whopping

38.28%

sign-up rate.

Of the leads that completed our on-boarding email drip campaign — conversions went from

10%

to an incredible

20%.
So today I'm sharing this framework with you so you too can get more clarity on your marketing message and confidently grow your business.
The framework I'm talking about was developed by Donald Miller from StoryBrand. More specifically I'm referring to his method for creating a BrandScript. 
In this guide, I'm going to show you exactly how to create your own BrandScript and how to use it in your marketing. 
So what the heck is a BrandScript?
A BrandScript is very similar to a movie script. In a movie script you define the character or hero of the story, what problem they are up against and tell the story of how they overcome that problem and save the day. With a BrandScript the only difference is that you are telling the story of your client and how they achieve success by using your products/services. 
Here's how it works:
A BrandScript follows the concept of the hero's journey and includes 7 key elements:
There's a character who wants something.

They encounter a problem that prevents them from getting what they want.

A guide appears who is able to help them overcome this problem.

They do so by giving them a plan of action.

Which calls the character to action.

The subsequent action helps them avoid failure.

And achieve success.
Sound a little like every movie you've ever seen?  
Well as it turns out, this same formulaic framework that all the big movie writers use to create great blockbuster hits can also help companies like yours: 
Frame customers as the lead character in their own story

Clearly identify what customers really want

Understand the challenges that customers face

Position the company's product or service as the top solution

Position the company as the customer's guide by demonstrating empathy and authority

Develop a clear plan for customers to follow leading them to purchase a product/service

Promote a clear call to action for customers to take

Clearly demonstrate to customers what success looks like if they purchase, and what failure looks like if they don't 
The best part is that once you have clarified the messaging for each of the 7 steps you can apply it to all branding and marketing communications — from web copy, landing pages, sales and nurturing emails, ad copy, eBooks, etc. Oh and IT ACTUALLY WORKS!!!
Ready to give this a try?
Now for the fun part! It's time to create your own BrandScript. Go to MyStoryBrand.com to create one for free.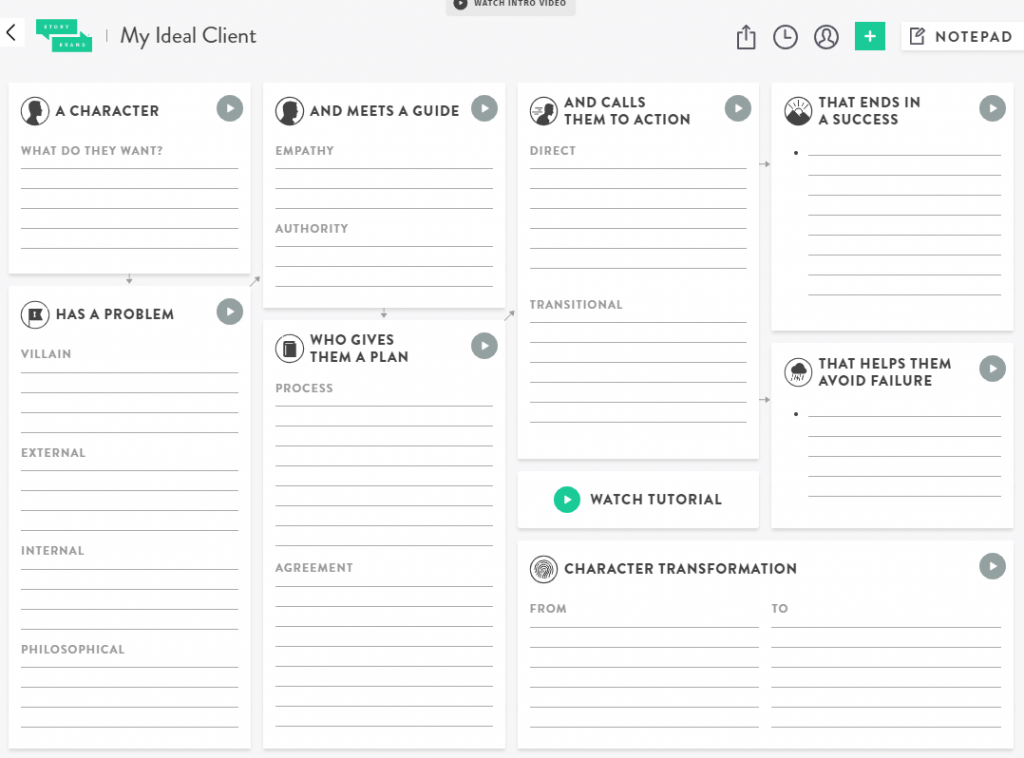 To help you out we're going to break down each of the below steps and provide examples so you can get a clear sense of how to write your own BrandScript.
A CHARACTER

HAS A PROBLEM

AND MEETS A GUIDE

WHO GIVES THEM A PLAN

AND CALLS THEM TO ACTION

THE ENDS IN A SUCCESS

THAT HELPS THEM AVOID FAILURE

CHARACTER TRANSFORMATION 
1. THE CHARACTER (HERO)
The first thing you need to know is that your customer is the hero in the story. The number one thing that so many companies do wrong is position themselves as the hero in the story instead of the customer. Remember this isn't about you. Your role is the helpful guide.
Your customers are not really interested in hearing about your list of credentials or awards or how long you've been in business. What they want to hear is how YOU are going to help THEM solve THEIR problem so they can achieve THEIR goals. 
But in order to help your client overcome their problems and achieve success, you first need to know what their story is and to write their story, you need to answer two questions. 
What do your customers want in relation to your business?
What's the aspirational identity associated with using your services?
The aspirational what now??? Yeah, I had the same reaction at first but stick with me here and we'll go through some examples that will make this crystal clear..
Ex. For Tom's Shoes customers, the aspirational identity could be "The Carer"
Customer's of Tom's shoes buy from Tom's over any other shoe company because they know Tom's matches every pair of shoes purchased with a new pair of shoes for a child in need. By choosing to purchase Tom's, the individual not only gets the physical product they want (the shoes) but they also feel good because their purchase helped to better the life of another.
See how this works?
For Nike the aspirational identity would be "The Athlete"
For Tesla the aspirational identity would be "The Innovator"
Now let's try an example that is tied to interior design.
Let's say you are a think-outside-of-the-box interior designer. You're not just always on top of the latest trends, YOU ARE THE TREND SETTER!
In this case the aspirational identity associated with using your services could be "The Influencer". 
Let's try another example:
Now let's say you're an eco-focused designer. Everything you use is free of harsh chemicals, eco-friendly and sustainable. 
In this case the aspirational identity associated with using your services could be "The Environmentalist".
This is a very important step to figure out because once you understand what your ideal customer 'wants to be' you can create more targeted messaging around their fears and desires.
2. THE PROBLEM
While it might look like one problem on the outside, there are actually 3 different types of problems your client faces:
EXTERNAL – This is pretty straightforward. Your client doesn't like the way their space looks and they want to update it.
INTERNAL – It's not enough to just understand their external problem. You need to know what triggers them on an emotional level. What's important to them? What do they worry about at night? If they are eco-conscious, keeping their carbon footprint as low as possible could be an internal struggle they are dealing with. They want a nice-looking home but they feel guilty about throwing what they have into the landfill and buying more stuff.
PHILOSOPHICAL – The final type of problem customers face is the philosophical problem. Above and beyond their internal problem there is likely a larger philosophical problem. This is essentially the problem within the problem. For the eco-conscious client, they might ask themselves these questions: "Why is it so hard to live environmentally friendly? Why is it so difficult to create a space I love and one that isn't damaging to the planet?" Philosophizing over the origin and cause of this problem can keep your potential client stuck in action. 
If you're thinking this is a little far-fetched — I promise it's not. When you can reach people on a philosophical level, you'll have created a bond that can't be broken and they'll hire you over any other designer, no matter the cost.
3. THE GUIDE
This is where you come in. Remember the client is the hero in their story which makes you the helpful guide. Your job is to provide a plan that will help your client overcome their problems and reach their desired goal. You do this by using empathy and authority.
EMPATHY – You need to show your customers that you understand what they're worried about and what they are going through.





Ex: The client is a lover of century homes and it's incredibly important to them that the home maintain the original look and not feel modernized. You can show empathy by agreeing with your client that all too often century homes lose their sense of history when they are updated and that you feel just as passionate about maintaining the character of the home.
AUTHORITY – At the same time, you need to back that empathy up with experience and knowledge.





Ex: You could share other century home projects you worked on to show how you maintained the character of the home. You could floss your knowledge of historical trims, details, wood stains and paint colors that would bring the home back to its original glory. You could let them know that you have a source where you'll be able to get the original period specific hardware.
When you speak directly to your audience's deepest fears and desires, your competitors can't touch you. They'll come across as just another designer, while you'll be seen as the understanding and knowledgeable guide they've been searching for all this time.
4. THE PLAN
Now that your customer knows what they want and the problems they face, it's time to show them how to achieve their goals. 
Donald suggests breaking your process down into 3 or 4 easy chronological steps that will give customers a clear picture of what they need to do. It should be crystal clear and feel easy and attainable.
To give you an example, one of our DesignFiles member breaks down her process like this:

5. THE CALL TO ACTION
Now that our hero understands what must be done to achieve their goals, it's time to take 
action. This literally means giving your target audience a clear call to action (CTA). In fact, Donald suggests that every website and landing page have two CTAs.
DIRECT – A direct CTA prompts them to take action towards working with you. Depending on your business, this might be to purchase a package or contact you.
TRANSITIONAL – A transitional CTA is one that is designed for people who aren't ready to hire you. For best results, your transitional CTA should help grow your email list by offering a guide or another freebie.
Example of a Direct CTA: Contact me for a quote.
Example of a Transitional CTA: Download my guide > What to Know Before Hiring an Interior Designer.
6. AVOID FAILURE 
Customers are more motivated by loss aversion than they are by potential gain. This means that the fear of losing something forces people to act more than the possibility of experiencing something positive. 
In other words, what you need to do is show your customer the consequences of their inaction. 
Here's an example of how Tobi Fairley speaks to the customer's pain:
Whether it's the pace of a busy family, the demands of two careers, the challenges of a major life transition, or all of the above, you and the people you love often feel overwhelmed.
While you value organization, beauty, and connection, those ideals often fall by the wayside as you try to keep up with countless commitments. You want your home to be beautiful, welcoming and functional, but you just can't seem to make reality fit your vision.
7. ENDS IN A SUCCESS
All stories need a happy ending and marketing to your customers is no different. Although loss aversion is more motivating, it's still important to talk about the success that potential clients will experience. Otherwise, you risk marketing yourself like a Debbie Downer. You'll want to provide a clear, detailed understanding of not only the final result but the final feeling too. 
Here's a great example of how Tobi Fairley helps the client see what's possible if they choose to work with her.
"The home of your dreams looks amazing. Even more importantly: The home of your dreams makes you feel amazing. It should be the place where you and your family can work and play and relax. Home is where you are meant to be yourself and express yourself.
Your home should foster personal growth and help you focus on your entrepreneurial pursuits. Your home is meant to be your foundation and your haven. It's where you should find peace and recharge. When you live in spaces that support the life you want to live, stress melts away and dreams find a way of coming true."
Sounds pretty great doesn't it. 😉
Now it's your turn
Alright, now that you have a clear understanding of how the 7 steps work, it's time to create your own brand script and put it to use. While you might be able to lift some lines of copy from what you've written, it's not intended to be something you can copy and paste to your website or Instagram profile. Rather, your BrandScript should act as your foundational guide whenever you're doing any sort of marketing for your business. 
Here are a few ways you can use your BrandScript to market your business better:
Make your website copy more empathetic

Add the transformation aspect to your website copy

Clarify the process section of each of your offerings

Amp up the authority on your website and social media pages (more educational content, press features, etc.)

Rewrite the descriptions of your services to show how they will help your ideal client avoid failure

Write a blog post about your design process, and how it ensures success

Rewrite your social media profiles to put your ideal client in the spotlight (ex: "Helping you love your home" instead of "I" type of statements)
It's all about caring for your audience, and diving into what they really want—not just the surface level. 
Put your customers in the center stage, and make them feel understood, and you'll begin to notice your messaging getting higher conversion and engagement rates.
Check out DesignFiles for easy design tools, an active community of interior designers, and lots of helpful content. Try our design and project management tools for free.
Recent Articles